Monday, April 22, 2013
Earth Day 2013 and The Solar Revolution Pavilion in Manila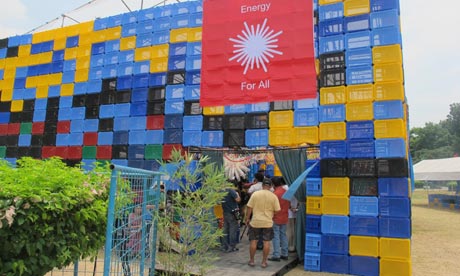 This past weekend, a bit ahead of the celebration for Earth Day 2013, the Solar Revolution Pavilion opened in Manila, Philippines. As reported in the Guardian:
Designed in partnership with Stephen Lamb, founder of South Africa based green design firm Touching the Earth Lightly, the Solar Revolution Pavilion is a 200 sq metre, 6-metre high structure built of 1,600 plastic vegetable crates containing reused plastic bottles.. The crates will eventually become eco-friendly bricks for a school library's walls.
The Solar Revolution Pavilion joins the "Liter of Light" project to put the Philippines on the map for its innovative solutions to power its people. Last year, the "Liter of Light project" drew attention to the Philippines. The organization started by the Filipino environmentalist Illac Diaz provided light to thousands of Filipino families still living without electricity by converting plastic bottles into sunlight-powered bulbs.
Here's why and how these MIT students discovered:
The students found that a one liter plastic bottle filled with bleach water and installed on top of a metal roof is a surprisingly simple way to light homes that have neither electrical connectivity nor natural lighting. The plastic defracts light and pushes it to every corner of a small slum house instead of beaming it onto one area like a typical lamp might. As part of their Solar Bottle Project, the organization Isang Litrong Liwanag, which means "A Liter of Light," has already installed 10,000 of these ridiculously basic but amazing lamps throughout Manila.
To learn more, check out the "A Liter of Light" website.